Spirituality of Mozart's Mass in C Minor, Bach's Mass in B Minor, and Messiaen's Quartet for the End of Time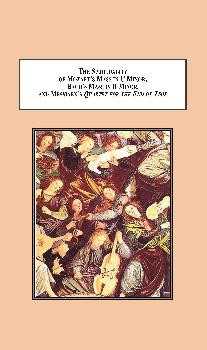 Author:

Greene, David B.

Year:

2012

Pages:

136

ISBN:
0-7734-2591-8
978-0-7734-2591-0
Price:

$139.95

+ shipping
(Click the PayPal button to buy)
This book is based around reports from people who have listened to certain pieces of sacred music (that is, pieces with a liturgical text or biblical allusions) and have said that hearing the music is itself an encounter with the divine. While relating to the music, these people find that relating to the music is a relation to God. The music as such becomes inaudible, and disappears into an encounter in which they address and are addressed by God, or the Risen Christ, or the Eternal Infinite.

The book's project is to elaborate on these reports, first by dwelling on the meaning of "relation" then by drawing parallels between the reports and the writings of Martin Buber on the I-Thou relation and its contrast to the I-It experience, and finally by describing the salient aspects of the music in order to specify just what is this hearing that is a relating, an encounter.

Although many pieces could have been chosen as examples of this kind of hearing and this kind of spirituality, the book takes only three so that it can describe them in considerable detail and depth. These pieces : Three Movements from Mozart's Mass in C Minor, the resurrection music from Bach's Mass in B Minor, and Oliver Messiaen's Quartet for the End of Time.
Reviews
"[The author's] analyses of these works are superb and should be of interest in their own right to students and scholars of any of the composers examined here. The spiritual depth of [the author's] insight into these pieces, however, takes the reader far beyond conventional music analysis, and sets this book in a class with very few peers."—Prof. Jonathan N. Badger, St. Johns College

"The most engaging and perceptive study of its kind. Rarely have I seen expertise in music (analysis and history) combined so astutely with theological discernment and with such keen awareness of the spiritual vitality and significance of major works of music"—Prof. Frank Burch Brown, Christian Theological Seminary
Table of Contents
Preface by Jonathan N. Badger

Chapter One: Sacred Music, Theology, and Spirituality

When Listening to Sacred Music is Hearing Theology

When Listening to Sacred Music is a Relation with God

Chapter Two: Hearing Mozart's Mass in C Minor: When Relating to Music is Relating to God

Relationships with Sounds, with Music, and with God

Music is "Sounded Relations"

Relating to Music, I Became a New I

Hearing the Mass is my Relation to God

Being Related to Mozart's Mass: Three Modes of Being with God

Being Related to "Kyrie": Knowing Forgiveness

Being Related to "Laudamus Te": Praising God

Being Related to "Qui Tollis": Addressing Christ/Christ Addressing me

Chapter Three: "Et Resurrexit" from Bach's Mass in B Minor: Meditations on Discontinuous Continuity

The Resurrection Story in Bach's Mass: The Finality of Death, The Newness of Resurrected Life

Bach's Witness to the Actuality of the Resurrection

The Holy Spirit's Witness to Christ's Resurrection in Bach's Music

Chapter Four: Messiaen, Quartet for the End of Time: New Visions of New Time

Boundless Dimension

Temporality without Beginnings and Endings

The Quartet as a Whole

Messiaen's Temporality and Time in Twentieth-Century Arts

Messiaen, Heard Theology, and Spirituality

Theology Heard in the Quartet in the End of Time

Spirituality and the Quartet in the End of Time

Bibliography

Index
Other Music-Specific Composer(s) Books
More Books by this Author